EP30007 Panasonic Real Pro Ultra Massage Lounger with 3D Body Scan Technology
---
A Tailored Massage


"Junetsu" Massage


Reflexology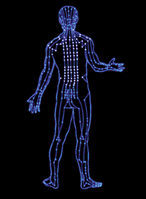 Acupoints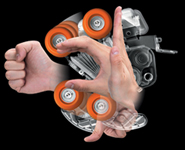 Quad-Style Massage Technology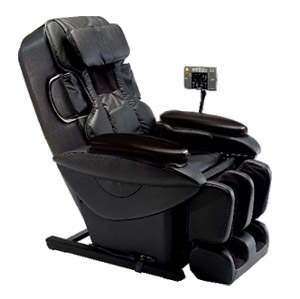 EP30007 Panasonic Real Pro Ultra™ Massage Chair Lounger with 3D Body Scan Technology and Arm Massage Lounger with Exclusive "Junetsu" Ultra-Fine Kneading Massage - EP30007

Endorsed by the American Chiropractic Association - Panasonic massage loungers are the first chairs to be approved by the American Chiropractic Association (ACA), the largest professional association in the world representing doctors of chiropractic. In fact, this distinction represents the first massage chair endorsement given by the ACA. Recognizing the many health benefits of regular massage, the ACA found that Panasonic massage chairs provide outstanding deep-tissue relief, which can temporarily relax tense muscles, offering an ideal complement to chiropractic manipulation.
Depth Adjustment and Innovative Pressure Sensor Technology! - The EP30007KX Real Pro Ultra uses sophisticated sensor technology to essentially plot a digital "map" of your back. Because everyone is built differently, everyone needs a unique type of massage; the EP30007KX uses it's sensor technology to deliver a massage specifically contoured and customized to your back's shape and dimensions, with special emphasis on your spinal structure. This digital "map" instructs the rollers: the Real Pro Ultra knows where to massage, and where not to. By using the electronic intensity adjustment, you can help inform the massage heads to either extend further into your back (for a deeper massage) or withdraw for a smoother, gentler experience. You can even program your lounger to focus more intensely on a specific part of your body, and less intensely on another!
The "Junetsu" Massage Technique - A Panasonic exclusive! The aptly named "Junetsu" technique (a Japanese word meaning "ultra fine kneading") is derived from the brief circular thumb movements of many professional massage therapists. Effectively, this allows your EP30007KX to deliver a spot-specific massage to particularly tense areas on your body. The Junetsu method quickly and deeply penetrates through muscles and reverberates down to your bones, loosening up even the tightest muscles with small spiral motions.
Total Body Coverage - The EP30007KX offers 200 square inches of total back coverage alone, and an additional 296 square inches of coverage over your legs, hips, buttocks, and arms. That's 496 total square inches of coverage, more than any other chair in its class!
Reflexology Massage: Give Your Feet a Rest - For professional grade foot massage, the Panasonic EP30007KX is at the top of its class. Using adjustable and removable plates around your feet, the Real Pro Ultra incorporates stimulating reflexology into your personal massage experience. Three airbags per foot massages crucial tension points on your feet, increasing circulatory function in the soles and proliferating energy throughout your body. Your feet have to carry a lot of weight, and consequently, they carry a lot of stress; why not give them the treatment they deserve?
The Flexible Ottoman and Auto-Recline - Panasonic's EP30007KX boasts a unique, versatile ottoman that will keep you rested even as it works to relieve your stress and tension. The ottoman features 12 airbags to give your legs a complete, contoured massage, with special attention to your calves and feet (where you store much of your stress). The Real Pro Ultra's ottoman can be used open or closed, so you are guaranteed a perfect fit for your body regardless of your height. Additionally, the EP30007KX gives you electronic control over your recline while the chair massages you. Choose the position that makes you feel the most comfortable: up to 170 degrees of options!
Relax Your Arms and Hands - Advanced stretching and kneading armrests deliver unprecedented comfort and relaxation to your often-overlooked limbs. Effective arm and hand massage promotes proper circulation and warmth, and it also improves your flexibility and range of motion. Regular hand and wrist massage may also significantly alleviate pains associated with carpal tunnel syndrome and will diminish your risk of suffering from this common ailment After a long day at the keyboard, this may be just what you need!
The Voice Guidance System Makes Massage Convenient - With so many massage possibilities available to you, operating your EP30007KX may seem like a formidable task. Luckily, Panasonic has developed a remarkably intuitive remote user interface that boasts a built-in voice guide to help you pick the perfect massage program for you. After watching Panasonic's short tutorial video (included), you will be able to program your chair like a pro. It's just so easy!
The Acupoint Method - There are around 350 acupoint's in your body, dispersed essentially along the surface of your skin. Of these, 100 are located in your back and neck! All of the EP30007KX's massage techniques are specifically engineered to manipulate and relieve these crucial acupoint's, yielding a remarkably invigorating and effective massage.
"Grasping:" Advanced Panasonic Massage Technology - Unlike most massage chairs, the EP30007KX can actually extend the massage rollers away from the chair and over your shoulders. Not only do these rollers massage the tops of your shoulders, they can actually pivot down to massage near your collarbone. Only Panasonic offers this incredibly realistic and relaxing massage technology!
Stretching Your Hips and Thighs - Panasonic's Real Pro Ultra gently grasps your legs and hips while lowering the calf and back rest. This "stretching" relaxes your body even as it improves your flexibility. This stretching works in tandem with your massage because it improves the flow of blood throughout your body as the rollers relax your muscles. Increased flexibility is important, as it can reduce the incidence of injury and may improve your total mobility.
Program Memory! - You can create your own custom programs based on individual users; your EP30007KX will "remember" these massage presets, so you and yours can have a perfectly tailored massage every time. You can save up to 6 custom programs for 4 different users to the EP30007KX's memory; that's 24 memorized, customized programs in all!
FREE WHITE GLOVE In Home Delivery, Setup and Box Removal for New Chairs in the Continental USA.
FREE Standard Curbside Delivery for Hawaii, Alaska and Canada.
SALES TAX is INCLUDED on New Chair Orders.


Panasonic Massage Chair Comparison Chart
4 types of pre-programmed 15 minute massages: Shiatsu, Swedish, Deep-Tissue, and Arm & Leg Stretch massage.

5 minute "Refresher" massage functionality

Customizable Self-Program massage: over 1117 possible massage combinations!

"Junetsu" Ultra Fine Kneading Massage, a Panasonic exclusive!

Soothing Grasp/Closed Fist massage modes for your neck and shoulders

36 total airbags, including airbags for the soles of your feet, calves, buttocks, arms/hands, waist, and shoulders.

High-tech Auto Body Scanning System delivers a precise, stimulating massage

Voice Guidance System: you have total, convenient control over your massage

4-person/6-program Memory: 24 Memory total means your chair remembers your favorite massages and presets.

Sophisticated black or rich, chocolate brown leather upholstery

Ultra Soft and Durable Synthetic Leather requires minimal maintenance
NEW Chairs can include white glove delivery service in the Continental USA.

Click Here for More Massage Chairs


*WARRANTY INFORMATION: New Panasonic massage chairs come with a manufacturer's three-year limited warranty against mechanical defects (cosmetics are not covered) in the USA only. Parts are covered for three years from the original date of purchase. Parts and Labor are covered for one year from the date of purchase. The warranty is not valid if the product has been misused or damaged in any way that is beyond the control of the manufacturer. Chairs are packed for shipping and may require only minor assembly.