NEW HTT-10 ( HT-120 ) Robotic Human Touch Home Massage Chair
---

The Curve Track massage mechanism follows the contour of the human spine for a more penetrating massage.

Compression
A unique combination of alternating strokes and pressing on the spine.

Kneading
Ease soreness and work out the "knots" with a deep kneading massage.

Percussion

Feel invigorated by the sensation of hands rapidly tapping on your back muscles.

Rolling
Feel the tension dissolve with the gentle rolling massage. Indulgence should be a virtue.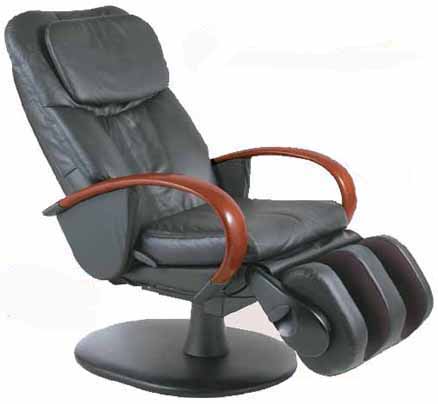 NEW HT-10CRP Human Touch Home Massage Chair / Recliner - The HTT-10CRP / HT-120 is the culmination of years of research and development which has lead to this extraordinary system that emulates techniques used by massage and chiropractic professionals for back and spinal care. Chairs include a Manufacturer's Limited Warranty. Extended warranties are available on new HTT10 chairs.
Click here to see Dennis Franz and Ellen Degeneres fall in love with the new HT Massage Chair.



HTT10 / HT-120 Human Touch Technology™ starts with a multi-patent pending mechanism that works like "wrists and arms." Then we added "the hands" -- massage discs that move three-dimensionally to approximate the human touch. 4 motor massage chair. Black - HTT-10CRPB / HT-120-100-001. Cream HTT-10CRPC / HT-120-100-004. Yellow HTT-10CRPY / HT-120-100-012. Red HTT-10CRPR / HT-120-100-011. Blue HTT-10CRPBL / Htt-120-100-002. Eggplant HTT-10CRPE / HT-120-100-008, Green HTT-10CRPG / HT-120-100-009 and NEW CASHEW HTT-10CRP / HT-120-100-014!. Extended warranties are available on new chairs.
Robotic Human Touch Massage Chair Comparison Chart.
New HTT-10iCRP / HT-130 and HTT-10CRP / HT-120 Massage Chairs include a Three Year Manufacturer's Limited warranty*.
Additional exclusive features of the HTT-10CRP include:
Human Touch Technology™ -- the most advanced robotic massage system available.

Curve Track will penetrate higher into the neck and follow the contour of your back by your lumbar area.

4 Massage Functions including Rolling, Kneading, Compression, and Percussion in multiple speeds.

2 Programmed Sessions allow you to sit back, relax and enjoy one of two individual 15 minute preprogrammed massage sessions with the touch of a button.

Power Recline allows you to adjust the back of the chair with the handheld controller.

Robot Rotating Calf & Foot Massager footrest has 2 speeds and a program.

Adjustable Height for the length of the massage stroke for normal and tall heights.

Optional Luxurious Leather on the seat and back cushion.

Hand-Polished Solid Wooden Armrests.

Ergonomic designed headrest.

Range Control to customize the location of the kneading and compression functions.

Rugged construction and virtually maintenance-free.

Chair swivels on its Base from side to side.
Four motor massage chair
Seat Width (between arms) is approximately 20"
FREIGHT GROUND SHIPPING IS INCLUDED on New Chairs
FREE WHITE GLOVE Delivery, Setup and Box Removal for New Chairs in San Diego.

NO SALES TAX (Except California orders)
CHAIRS ARE IN STOCK FOR IMMEDIATE SHIPPING!!

Interactive Demo on how the HTT-10 Human Touch Robotic Massage Chair Works
| | | | | | | |
| --- | --- | --- | --- | --- | --- | --- |
| | | | | | | |
| BROWN | CREAM | RED | BLUE | EGGPLANT | GREEN | YELLOW |
The Rotating calf and foot massage footrest massages your calves or your feet.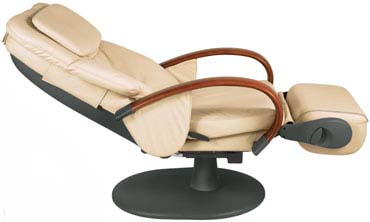 Also Available: HT-125, HT-135, HT-140, HTT-7, HTT-9, HTT-10, EMS 9, RMS 11, Perfect Chair

WHAT IS REFURBISHED??
Chairs can be classified as refurbished for many reasons and we do not know specifically why each one has been classified as such. You can be rest assured that these ARE NOT worn out, tired, abused or destroyed chairs. We take great pride in offering refurbished products that are as close to "new" as the factory can make them. Our refurbished products have undergone an extensive testing and evaluation process by the factory technicians (not a reseller). All massage mechanism components have been replaced with factory-fresh parts. Upholstery is factory-fresh. Where necessary, scratched parts have been replaced with factory-fresh parts, but some minor blemishes are unavoidable.


Today we received the New HTT-10iCRP Leather chair we ordered only 5 days ago from your web site. It arrived in perfect condition and it's beautiful. The price and service from your company was outstanding and my wife and I are amazed how quickly the product arrived here in New Mexico. Well done! - Andrew & Karen R. Santa Fe, NM.
Hi. I just wanted to say I got my HTT- 10i- CCRP chair yesterday, and I could not be happier with it. I was a little worried about ordering a massage chair over the internet. Your web page made it easy to do and the chair arrived within just a couple days. Your shipping partners delivered it in perfect condition. The 10i chair that I ordered was not available locally, plus I saved from not paying sales tax, and your free delivery saved me more. Thanks for meeting all my expectations. - James E.
Amazing chair super white glove delivery - Ivan S.
Just want to commend your Internet sales rep., kyle. these chairs are available locally for just slightly more and he made the difference in my buying from you folks! he's an asset to your organization! thanks! - Scott N.

I ordered two HTT-10CRP chairs 24 November 2003 and received them yesterday morning. They are setup and working just great. I am impressed with the easy and efficiency with which I was able to place the order via your web site and the speed with which they were received. Thank you very much for a job well done. Happy Holidays, - John W.
I received my wife's chair today (Factory Refurbished). The shipping was very fast. The chair is in excellant condition. The same chair would have cost us $1800 here in Greenville. Thanks so much - Jack K.


Click Here for More Massage Chairs


*WARRANTY INFORMATION: New Signature Human Touch / Interactive Health Massage Chairs have a "5/1" Limited warranty. Signature HTT™ and HT™ massage chairs come with a manufacturer's five-year limited warranty against structural defects (Frame only - cosmetics are not covered). Factory Parts are covered for 1-year from the original date of purchase for chairs in the US 50 states and most major cities in Canada only. Refurbished Massage Chairs have a 90 Day limited residential use warranty for parts only. Chairs are packed for shipping and require minor assembly. White Glove delivery, setup and box removal is available on all chairs to most US addresses for an additional fee. Warranty is not valid for chairs shipped out of the United States and Canada. In-Home Service is only available in the US 50 states and most major Canadian Cities. Extended warranties are available on both New Massage Chairs. More Warranty Information.