| | | |
| --- | --- | --- |
| PC-085 Transitional Perfect Chair Zero Gravity Recliner by Human Touch | | |

Power Recline PC-085 Perfect Chair by Human Touch in Leather, Bonded Leather and Vinyl













Our Price - Electric Transitional PC-085 Perfect Chair Recliner - CLEARANCE SALE $999

Availability: Ships within 1-2 business days

Shipping: Standard Continental USA Ground Shipping Included.

PLEASE SEE THE NEWER PC-086 Perfect Chair Model HERE.

Exclusive Features of The PC-085 Transitional Power Recline Perfect Chair:

Generous cushions for a soft touch and furniture springs for superior comfort seating.

Bonded Leather can peel or flake especially when exposed to moisture or sweat.

Multi-patented construction throughout means the Perfect Chair® is one of a kind.

Extra wide leg rest provides maximum comfort.

Exclusive guide rail system ensures smooth power Electric recline motion.

Interior woodbase.

Assembles in Minutes.

Available in Black, Cashew & Red Bonded leather, Premium Genuine Leather or Vinyl.

SofHyde is a leather-like polyurethane material that does not include any animal hide or leather products.


Well-padded for comfort and durability.

The neutral body posture chaise position elevates your legs above your heart, relieving weight from your spine. Doctors recommend this as the healthiest way to sit.
The zero-gravity recline of the Perfect Chair® offers a unique experience. As your feet rise above your heart, pressure is removed from your spine, allowing absolute surrender to deep relaxation.


Fight Fatigue - Elevated legs helps to boost circulation

Ergonomically shaped, articulating head rest cushion cradles the neck for perfect support.
Electric recline with Easy-to-use armrest control system allows precise position control and is extremely reliable.
Factory Warranty has expired. Only a 90 day Factory Parts warranty for mechanical issues is included. No Cosmetic Issues.
Ground USA Curbside shipping is included in the price.

Chair delivery, setup and box removal included in San Diego.
"Chair is sooooo comfortable. Thank you for sending it so quickly" - Alex A.

"I LOVE THIS CHAIR!" - Leslie S.

"Great Chair/"perfect" in every way ...." Richard B.

"You've got to get one of these chairs! Like new! Fast shipping too. Great ..." Chris S.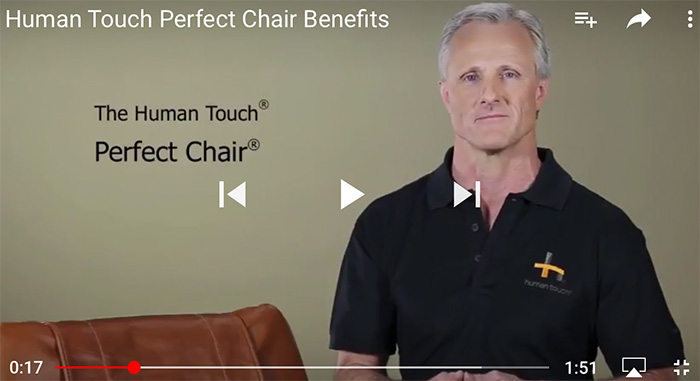 Product Specifications:
Shipping weight in pounds: 128 lbs boxed, 108 lbs Net Weight
Product Measurement in inches: Approximately 44 x 50 x 34" Upright, 66 x30 x 34" Reclined
Reclined Clearance Required (distance to wall) is 18"
Seat Width between arms is approximately 23.25" and 34" wide (outside of arms)
Shipping Box Dimensions: 65 x 36 x 29"
No longer have the Factory Warranty.
Assembled Country of Origin: Imported
Components Country of Origin: Imported


Also Available: HTT-7, HTT-9, HTT-10, EMS 9, RMS 11, Perfect Chairs
*WARRANTY INFORMATION:

The PC-085 and PC-086 Perfect Chairs no longer have the Factory Warranty. These are sold with a 90 Day Parts warranty for mechanical issues only. No cosmetic warranty is offered for any peeling or flaking of the Bonded leather.
Security & Privacy | Terms of Use | Join Our Affiliate Program
Store Finder | Company Information | International Customers | Shipping Information | Site Directory