LARGER iJOY-2400 Human Touch Robotic Massage Chair with Limited Warranty
---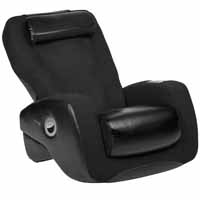 Compression
A unique combination of alternating strokes and pressing on the spine.

Kneading
Ease soreness and work out the "knots" with a deep kneading massage.

Percussion

Feel invigorated by the sensation of hands rapidly tapping on your back muscles.

Rolling
Feel the tension dissolve with the gentle rolling massage. Indulgence should be a virtue.
52"L x 31"W x 20"H - Reclined
40"L x 31"W x 37"H - Upright
Box Dim.: 52"L x 33"W x 23"H
Hand Held Remote
Witness the newest massage chair that packs the patented Human Touch massage system in an aesthetic, space saving package. Introduce yourself to the new Human Touch® iJoy-2400, a breakthrough in massage technology. This robotic massage chair makes relieving the stresses of everyday life a breeze in just 15 minutes. In the time it takes you to check your emails, you can experience the pleasure of plush SofSuede® material infused with refreshing massage techniques that will render your body rejuvenated, and your mind at ease. The dorm, your spare office, virtually any place where you can kick your feet up, the iJoy-2400 will have you instantly relaxed, with room and time to spare. Only available in Black.

More Velour and Faux Leather iJoy Chairs also available!!

iJoy Robotic Massage Chair Comparison Chart

Chairs are STOCKED for IMMEDIATE shipping! - NO WAITING!


Exclusive features of the iJOY-2400 include:
Quad-Roller Massage Mechanism follows the contour of your spine

Brushed Polyester Fabric
Wheels to easily move the chair.
Built in Removable wired Hand Held Remote Control

Adjustable Headrest \ Lumbar Pillow

4 Modes: Kneading, Compression, Percussion, Rolling.

3 Programs: Full Back, Upper Back, Lower Back
Manual Recline - Backrest reclines back 170 Degrees
Seat Width is 18.5" Between Arms.
iJoy Neck/Lumbar Pillow Included with New & Refurb Chairs
30% larger than the iJoy 100 Massage Chair

Two Motor Massage Chair

90 Day Limited Parts Warranty (Refurb chairs)
NO SALES TAX (Except California Orders)
Optional Ottoman 2.0 is available for $249.
Optional Otoman 3.0 is available for $329

Optional SofTable is available for $89.
With a Human Touch iJoy-2400, the possibilities are endless. You won't ever have to break the bank to experience a massage chair that provides the latest in massage chair technology. Your upper and lower back will sing praises as it feels the effects of percussion, compression, kneading, and rolling, all in one session. You will have to assure yourself that there aren't several expert masseuses in your home! An iJoy-2400 is perfect massage recliner chair for any size living space, and is specifically designed to provide a therapeutic massage to your upper, lower, or entire back. The future of massage chairs is here and ready for you to recline and unwind.
iJoy 2400 Black Model Number: 100-2400-001 - UPC: 045915813307

iJoy Robotic Massage Chair Comparison Chart
Excellent, product arrived on time and in perfect condition. - Chad P.

FREE PICK-UP AT OUR SAN DIEGO SHOWROOM!!
Click Here for More Massage Chairs


*WARRANTY INFORMATION: New iJOY massage chairs come with a manufacturer's one-year limited warranty against mechanical defects (cosmetics are not covered). Parts are covered for one year from the original date of purchase. Parts and Labor are covered for 90 days from the date of purchase. Refurbished Massage Chairs have a 90 Day limited warranty for parts only. The warranty is not valid if the product has been misused or damaged in any way that is beyond the control of the manufacturer. The chair (or parts) may need to be returned to the manufacturer for service by technicians. Extended warranties are available on New and Refurbished Massage Chairs. Chairs are packed for shipping and require only very minor assembly. MORE WARRANTY INFORMATION