Cozzia 16027 Feel Good Massage Chair Recliner
The Zero Gravity is a position is designed to take pressure off of the spine. Berkline's Zero Gravity chair elevates the knees to the level of the heart, and brings the spine parallel to the ground. By eliminating all vertical pressure on the vertebrae, the connective tissues surrounding your spine are able to relax making massage far more effective. The 16027 automatically reclines and the back and footrest can be adjusted independently. It scans your body to determine your height and adjusts the massage area to fit. The back rest rail is S–shaped to conform to your body shape. Massage features include Swedish, Shiatsu, kneading, clapping, tapping, rolling, and vibration. There are six pre–programmed massages, five levels of speed and intensity, and three width adjustments. Partial massage options are also available. The seat has a built–in vibration massage and there is an invigorating air pressure system for the lower body. Massages can be programmed to last from 5 to 30 minutes and the remote will even turn off the chair when the massage is complete.
Additional exclusive features of the Cozzia 16027 Feel Good Massage Chair Recliner include:
Massage Actions – Swedish massage, Shiatsu massage, kneading, clapping, tapping, rolling, dual–action, vibration, tri–action with 5 levels of adjustability.
Zero Gravity – Elevates the knees to the level of the heart and brings the spine level to the ground.
Pre–Programmed Massage – Six pre–programmed massages with customizable strength, speed and intensity.
Partial Massage Options – Three partial massage options for the upper middle and lower back area.
Air Pressure System – Invigorating air pressure system in back, seat, calves and feet areas.
Shiatsu Massage – Shiatsu massage functions for seat, calves and feet.
Adjustable Massage Track – The width of the massage area in the back can be adjusted.
Auto–Scanning – Automatically adjusts massage specific to the user's body.
Adjustable Footrest – Footrest is adjustable to user's height.
Customizable Massage – Easy to use LED remote allows you to adjust the massage area, speed and rollers.
Automatic Angle Adjustment – Angle of the backrest and footrest adjust automatically.
PowerRecline® – One touch button reclines the chair to your favorite position.
Auto–Shutoff – 5 – 30 minute massage programs with an automatic shutoff.
Mini Controller – Also has a wireless mini controller for easy of use.
LCD Remote Display
Seat Vibration
6 Air Bags
Dimensions: H. 52.5" W. 29.5" D. 57.5"
Durable synthetic leather has the look, feel, and comfort of real leather. Available in either black or brown.
Standard one year in-home service warranty and 2 year parts warranty included.
Optional 3 Year Extended in home parts and service warranty is available for $299.

INCLUDES Continental USA Freight Ground Curbside Shipping ($195 Value)
Add $295 for WHITE GLOVE In Home Delivery, Setup and Box Removal for New Chairs in the Continental USA.

SALES TAX is INCLUDED on NEW Cozzia Massage Chair Orders.
2-3 BUSINESS DAY EXPRESS Delivery is available to most US Addresses.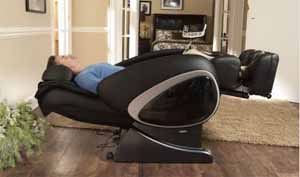 Click Here for More Massage Chairs

Product Specifications: 16027 Feel Good Massage Chair Recliner by Cozzia
Shipping weight in pounds: lbs boxed, lbs Net Weight
Maximum Load Weight: 325 lbs
Product Measurement in inches: Approximately 52.5"H x 29.5"W x 57.5"L
Back Width is "
Top of Backrest to the seat is "
Seat Dimensions: "L x "W x "H
Manufacturer's 2/1 Limited Warranty is Included


*WARRANTY INFORMATION: COZZIA products have the following residential warranty: COZZIA's massage chairs, massaging motion upholstery and home theater massage seating provide a one year in-home service warranty and a two-year parts warranty. Warranties are only valid within the United States and are contingent upon the consumer operating the chair according to the corresponding instruction manual. Warranty coverage begins at the time the Consumer purchases the product and is non-transferable. Warranties are only valid within the United States provided the equipment has been operated according to the instructions accompanying it. The warranty only applies to the product and does not include any accessories or enhancements. Our maximum liability under this Limited Warranty is limited to the cost of repairing or replacing defective Equipment. We shall not be liable to you for incidental and consequential damages. The warranty is not valid for chairs used in commercial, business, rental, institutional or any other non-residential use. A 3 Year Extended In-Home Parts and Labor Warranty is available for $299.



16027 Massage Chair

Popular Lift Chairs: